Ask us questions! We're here to help.

Program Director
Gain Insight and Understanding into Islam and Muslim Cultures
The study of religion is critical to understanding history and the contemporary dynamics of our world, both to appreciate our interconnected humanity and develop solutions to undo current social and political injustice. Islam and Muslim communities are a rich part of local Michigan history and an integral part of global studies. Supporting and promoting the examination of the Islamic tradition and Muslim voices are in line with the identity and mission of Catholic/Jesuit universities. The Islamic Studies minor is designed to be both multicultural and interdisciplinary, and critically examines the place of Islam and Muslims in society locally, nationally and globally. Students of Islamic Studies will become familiar with major historical events and figures, cultural processes, patterns, ideas and values that have shaped Muslim traditions and Islamic cultural and intellectual contributions. Whatever your academic major and religious background, students in the Islamic Studies minor will be challenged to better comprehend their own commitments, presuppositions, aspirations and fears while coming to understand those of their neighbors. This approach promotes greater intra-faith, interfaith and intercultural dialogue, understanding and appreciation. The program's continued support and growth come from an endowment raised by individual donors and institutions in the Muslim community, and those who want to help promote peace and understanding.
The Islamic Studies minor offers an approach to the study of Islam and Muslims that examines principal beliefs, core values, practices, and cultural expression. Courses provide introductory as well as critical, in-depth analyses of key themes in the study of Islam across several disciplinary methods. Students not only investigate religious sciences such as theology, law, and philosophy but also the deep relationship between Islam and the arts, science and technology, medicine, economics, and government. Altogether students build a rich understanding of the history and contemporary dynamics of Islam as a multiracial, multivocal, and transnational tradition in a multifaith and interconnected world. The minor investigates the ultimate priorities, purposes and passions of a living religion with significance to the greater Detroit area and import in global history and our collective future.
The minor is housed in the College of Liberal Arts & Education.
Additional Academic Offerings
 

Language Offerings

Language Study allows you to study Islam through texts, media and engagement with contemporary communities beyond English. Arabic is integrated into the Islamic Studies minor, and classes are regularly offered throughout the year. In addition, you can request to have other languages offered to expand your study of Islam and Muslim communities through the 

Language and Cultural Training Program

. For example, you can study Persian to read epic poetry or Turkish to understand political speeches.

 

Off Campus Learning Opportunities

To expand our knowledge beyond a traditional classroom setting, the Islamic Studies program encourages students to pursue learning off campus. The program supports internships with local Muslim organizations, such as a charity or scholarly center, with the support of a faculty member. Beyond our city, students can pursue study abroad opportunities to learn from and engage with Muslim communities and historical sites outside the United States. Get in contact to learn more!

 

Related Programs in the Region

The Greater Detroit Region is rich with scholarly projects that support the study of Islam and Muslim communities. Students at University of Detroit Mercy can not only learn from our peer institutions but reach out to collaborate!

Since opening in 2005, the Arab American National Museum's (AANM) mission has been to document, preserve and present the history, culture and contributions of Arab Americans. Their exhibitions cover the Arab world and the history of Arab Americans from the first immigrants who arrived in the late 19th century to today. AANM has one of the most extensive archives of Arab American historical documents, oral histories and artifacts and actively collects Arab American art. As part of the larger, religiously diverse landscape of Arab American history, AANM contains important historical material in their museum and library of Muslim history in the United States.

he Dream Storytelling Project, also known as the Detroit Muslim Storytelling Project, is an oral history initiative launched in 2020 by the neighborhood revitalization association Dream of Detroit, which works closely with the Muslim Center Mosque and Community Center. This project builds and disseminates knowledge about the history and scope of African-American Muslim community leadership in Detroit. It shows how a diverse group of Detroit residents are developing informed solutions to the city's enduring problems of population loss, economic decline, and municipal neglect and while producing vibrant social networks and community life.

Hosted by University of Detroit – Dearborn, Halal Metropolis is a series of exhibitions that explores the facts, fictions and imaginaries of the Muslim population(s) in Detroit and Southeast Michigan as viewed through historical and archival research, documentation of current conditions, and explorations of future desires. The Halal Metropolis alludes to the established and growing Muslim population in Detroit and its metro area, one of the largest and most diverse Muslim populations in the U.S., whose visibility is both pronounced and extremely present in the city, yet whose narrative seems unusually silent in the larger Detroit story.

Established at MSU in 2006, MSP coordinates research, teaching and outreach about Muslim societies and states. Additionally, it organizes speakers, workshops and conferences on a wide range of topics that reflect the rich diversity of Muslim communities around the world. It is an interdepartmental and interdisciplinary center.

Hosted by the University of Michigan Ann Arbor, Khamseen is a free and open-access online platform of digital resources to aid the teaching of Islamic art, architecture, and visual culture. In its initial stage, the platform provides original multimedia content developed by scholars from across the field of Islamic art, which is intended to aid educators in the creation of an interactive learning environment and to contribute to new ways of teaching in general, bringing new voices, perspectives and materials into our classrooms.

The Global Islamic Studies Center (GISC) serves students, faculty, and the extramural community by promoting the understanding of global Islamic culture and Muslim societies worldwide, through pioneering research, innovative instruction, and a commitment to building partnerships on the University of Michigan campus and beyond.

The cultures of the Middle East and North Africa have a rich artistic, religious and intellectual history. They impact global politics and are a significant part of life in the Detroit metro area. As part of this program, students can take several courses in Islamic Cultures.
 

Previous Events

Co-Sponsorship: Under Pressure: Women in Afghanistan, Iran and the USA

Tuesday, March 14, 12:45 to 2p.m.

| | | |
| --- | --- | --- |
| | | |
| Khatera Alizada, Ph.D. | Jocelyn Boryczka, Ph.D. | Khadijeh Niloufar Salimi, Ph.D. |


The Department of Political Science at Detroit Mercy hosted a discussion in honor of International Women's Month. It focused on the comparative status of women in Afghanistan, Iran and the United States in light of recent events and developments in these countries in light of contemporary socio-political dynamics.

The discussion was led by three local experts:

Khatera Alizada, Ph.D. is a member of the Board of Directors at Bamyan Foundation and a research affiliate at Worcester Polytechnic Institute. She has worked with the Feminist Majority Foundation, Middle East Institute, the Norwegian Refugee Council and the Afghanistan Independent Human Rights Commission.
Jocelyn M. Boryczka, Ph.D. is the Dean of Detroit Mercy's College of Liberal Arts & Education and is Professor of Political Science. Boryczka served as editor and co-editor of New Political Science: A Journal of Politics & Culture, has written two books about women's education.
Khadijeh Niloufar Salimi serves as an adjunct faculty at Old Dominion University and Christopher Newport University where she teaches courses in Politics of the Middle East, Global Social Issues and Comparative Politics. Salimi's research focuses on civil disobedience, social movements, LGBTQ rights movement, the Women's Suffrage Movement in the US and the Women's Suffrage Movement in Iran.

This event was co-sponsored by the Islamic Studies Program, the Political Science Department, and the Women's and Gender Studies Program.

---

Co-Sponsorship: The Trials of Spring - A Film Screening and Discussion

Life Sciences, Room 115
Wednesday, March 1, 5 p.m.

 

The Women's and Gender Studies Program presented a screening and discussion of Fork Films' documentary: The Trials of Spring. The film follows three Egyptian activists in their fight to ensure that women were included in the Arab Spring movement of 2011. The screening will be followed by a discussion.

Islamic Studies faculty member Reem Abou-Samra was one of the scholarly discussants for the film.

This event was co-sponsored by the Islamic Studies Program, the Political Science Department, and the Muslim Student Association.

---

The Sound Arts: A Spiritual Practice in Islam with Tazeen & LuFuki

St. Ignatius Chapel, Commerce & Finance Building
Friday, Nov. 11, 5 p.m.



In this session Detroit-based artists, educators, and community organizers Tazeen and LuFuki share some of their original compositions - grounded in diverse musical traditions such as jazz, funk, Afro-Indian, rock and classical- followed by a discussion on how art can and has been used as a spiritual practice in Islam for generations.

Tazeen and LuFuki are a dynamic musical duo from Detroit that believe music is a sacred art form that can be used for storytelling, healing, solidarity, freedom and social action. Together they formed an afro-spirit sound collective, LuFuki and Divine Providence, and have released four albums: Inner Horizons, Elephants and Mountains, First Light and Love&Light.

They are currently working on several projects including, XRoads, a traveling exhibit on the history of Black Muslims in Jazz, and Autophysiopyschic Millennium, a creative research-music collective to explore and experiment with the philosophical writings and compositions Dr. Yusef Lateef left for future generations. They also serve as co-directors for the Detroit chapter of GAMA, Gathering All Muslim Artists, and are the founders of the Sanctuary of Sound, an intimate community space that pairs meditation and music as a spiritual practice and experience.

Co-Sponsored by the Office of the Dean, College of Liberal Arts and Education; Department of Performing Arts; African American Studies Program; and the Department of Religious Studies.

---

Water and the Pious Prince: Understanding Medieval Islamic Political Discourse through Hydraulic Architecture, a lecture with Ali Asgar Alibhai, Ph.D.

Loranger Architecture Building, Exhibit Space
Thursday, Oct. 13, 5:30 p.m.

Many regions of the Islamic world existed—and still do—in some of the most arid regions of the habitable world with minimal rainfall. This talk focuses on hydraulic engineering and architecture from the medieval Islamic Aghlabid and Fatimid dynasties of Tunisia. It examines environmental history and its connection to both political thought and material culture. These necessary urban constructions were not only built for pragmatic reasons, but their attached historical and art historical data demonstrate a deeply political and religious framework.

Ali Asgar Alibhai, Ph.D. is an assistant professor of art history at University of Texas at Dallas and specializes in the art, architecture, and material culture of medieval Egypt, Tunisia, Sicily, Spain and Morocco. His academic work combines the study of historical texts with art and architectural history to further understand the socio-cultural dynamics of the medieval Islamic world.

Co-sponsored by the Office of the Dean at the College of Liberal Arts & Education, Department of Religious Studies, School of Architecture & Community Development, and the College of Engineering & Science.

---

Muslim Pioneers in Detroit: Voices from Historic Masjid Wali Muhammad

Wednesday, April 6, 5 p.m.

This event included a panel discussion with five senior members of Masjid Wali Muhammad, the oldest continuous African American Muslim community in Detroit since 1930. This was the first place where Malcolm X served as a minister and frequently has hosted famous guests like Muhammad Ali. Panelists shared over eighty years of experience in organizing collective wellbeing through Islam, producing new ideas and practices of Islamic-based education, nutrition, fashion and more. This event illustrated how this nearby mosque has had an incredible influence on Black culture, Islam in America, and more for nearly a century.

Co-sponsored by the Department of Religious Studies and the African American Studies Program.

---

What Makes a Muslim Comedian? A talk with Samah Choudhury, Ph.D.

Friday, Jan. 21, 5 p.m.

American Muslim comedians like Hasan Minhaj, Kumail Nanjiani and Aziz Ansari are among the most prominent "pop culture Muslims" on the U.S. media landscape today – but why these South Asian men and why now? Through an analysis of these men's standup routines and other comedy productions, the legibility of Islam is constructed through a racialized triangulation of gender. The Muslim that emerges is a particular kind of Muslim man, diverse and different yet deliberately drawn as separate from the "queer perversities" of other Muslim men and errant hyper-sexualities of associated with Blackness. What does this mean for how the Muslims – and by extension, Islam – are seen and understood across such a precarious cultural terrain?

Samah Choudhury, Ph.D. is Assistant Professor at Ithaca College in the Department of Philosophy and Religion with a specialization in Islamic studies, humor and comedy, race, and gender.

Co-sponsored by the Department of Religious Studies and the Women's and Gender Studies Program.
Religious Resources
 

Prayer Services

Friday Jum'ah Prayer

Weekly Offering, Islamic Prayer Room, First Floor, Student Union.

 

Muslim Student Associations

The Muslim Student Association is a group dedicated to spreading knowledge and awareness for Islam, doing community service in the name of Islam, and bringing together people of different cultures and religious backgrounds.

Serves as a student organization for dental students to unite regardless of religious beliefs, or other background factors. Our primary goal is to connect dental students. We aim to provide service to our community and promote religious and cultural awareness by means of social and educational events at University of Detroit Mercy. View the Muslim Student Dental Association on Detroit Mercy's student organizations page.
Donate to the Islamic Studies program
The Islamic Studies program at University of Detroit Mercy is supported by an endowment raised from individual donors and institutions in the Muslim community and beyond. Thanks to all of our supporters! You can contribute through our secure donation website. Please follow the instructions on the following page to make sure your donation goes directly to the Islamic Studies program.
 

Instructions for Donations

The Islamic Studies program at University of Detroit Mercy is supported by an endowment raised from individual donors and institutions in the Muslim community and beyond. Thanks to all of our supporters! You can contribute through our secure donation website. Please follow the instructions on the following page to make sure your donation goes directly to the Islamic Studies program.

How to donate to the Islamic Studies program

Please use the forms below for gifts of $10,000, $5,000 , $2,000 or $1,000. Every amount helps to build our program

Recurring Gifts

Making a recurring gift is an easy way to support the Islamic Studies program. Through smaller, monthly installments, you can build to a significant contribution. For example:

$200/month = $2,400/year
$500/month = $6,000/year
$800/month = $9,600

Please write "Islamic Studies Program" next to 'other' to identify where you would like your contribution allocated.

One-Time Gift

Making a one-time gift is also a convenient way to support the Islamic Studies Program. Your contribution can significantly impact the growth and development of our students.

Please be sure to indicate "Islamic Studies Program" in the 'restricted to' box on the form to ensure your contribution goes to support our program.

Gifts of Other Amounts

Go to the secure donation page at https://community.udmercy.edu/donate
Fill out the donation form as follows:

Select or enter your donation amount
In the "Designation" box, select "College of Liberal Arts & Education"
In the "Comments" box, enter the phrase "Islamic Studies Program"
Lastly, click the "Continue" button and follow the site's instructions to complete your donation.  Thank you!
Program Director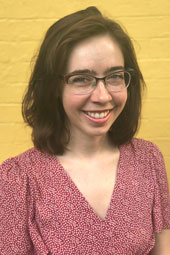 Faculty
Adjunct Faculty