Share:
Your Career in Criminal Justice Starts at Detroit Mercy
University of Detroit Mercy's criminal justice program provides a top-caliber education to all students by utilizing the latest research, providing instructors who are top in their field, using innovative classroom practices and by providing exceptional experiential opportunities. Our goal is to prepare you to be a skilled and ethical criminal justice leader.
Criminal justice is an interdisciplinary area that draws much of its content from law, psychology, political science and sociology. Our criminal justice curriculum makes you aware of the key issues, concepts and theories involved in understanding the operation of the criminal justice system. With this knowledge, students are taught to analyze the practical issues and controversies of the field. Problem-solving, the ability to make analytical judgments and the application of theory to practice are key skills that you will develop in this program.
Detroit Mercy offers both undergraduate and graduate programs in criminal justice. Detroit Mercy's Master of Science in Cybercrime shares several classes with the Department of Cybersecurity & Information Systems. These classes include knowledge areas critical for student's careers pathways that support the nation's information infrastructure through education and research in cyber defense, cybercrime, investigations and intelligence studies.

Alexis Malone
current student and full-time police officer,
Southfield Police Department
"Never give up! The journey to becoming a criminal justice professional has been challenging yet rewarding. With faith in God, I've defeated obstacles every step of the way."
Learn more about our graduate programs in cybercrime, criminal justice and intelligence analysis
Undergraduate Programs
 

Criminal Justice Major

Degree: Bachelor of Science
Major: Criminal Justice

University of Detroit Mercy's Bachelor of Science with a major in criminal justice prepares you to work in a wide variety of public and private careers at progressive levels of responsibility. These careers can include Federal, state and local policing; government regulatory agencies; private investigation and private security; and careers in corrections including parole and probation as well as institutional corrections. If you are planning to attend law school, a criminal justice major can also provide you with an excellent foundation.

To obtain this undergraduate degree, you must fulfill the requirements of the University core curriculum, the requirements for the 45-credit-hour program major and have completed a minimum of 120 credit hours.

 

Accelerated 5-Year Bachelor's to Master's Programs

Where Could You Be in 5 Years?


For ambitious, driven and career-minded incoming freshmen, University of Detroit Mercy offers two options to increase your knowledge and skills as a full-time student for 10 semesters (5 academic years) before entering the workforce:

Bachelor of Science in Computer & Information Systems (cybersecurity major); Master of Science in Intelligence Analysis
Bachelor of Science (criminal justice major); Master of Science in Intelligence Analysis
Bachelor of Science (criminal justice major); Master of Arts (criminal justice major)

In order to complete both the bachelor's and master's degrees in five years, you must:

Be very well prepared as an incoming freshman or transfer student;
Satisfy all the admission criteria (see below); and
Maintain a cumulative 3.25 GPA at Detroit Mercy, in order to take graduate level courses while still an undergraduate.

This program allows incoming freshmen to complete both the bachelor's and master's degrees by being a full-time student for 5 academic years (10 consecutive semesters). Juniors at Detroit Mercy and transfer students may be admitted into the program with the permission of the department and Dean's office.
Graduate Programs
 

Criminal Justice

Degree: Master of Arts
Major: Criminal Justice
Credits: 36

The Master of Arts with a major in criminal justice is designed for you, as a professional worker (law enforcement, corrections officer, security personnel) and others who desire to further their knowledge of the criminal justice system and its related disciplines. This program will provide you with an opportunity to broaden and deepen your perspective in the criminal justice profession. Problem solving, leadership, critical thinking and the prudent application of theory to practice are skills that the program is designed to foster. It is developed to meet the need for specialized training for criminal justice suited to its unique functions. Students interested in a generalist's approach to criminal justice will find the course of study appropriate. Law enforcement and corrections personnel acquire a broad background in administrative theory and current concerns of the criminal justice system.

The course of study can be pursued on a full- or part-time basis. Close faculty-student contact is maintained to assist each student in formulating realistic individual objectives and in selecting course work to attain them. Program arrangements are flexible so that individual needs can be served. At least 50 percent of students are employed full-time, often in the field they are pursuing. Course scheduling and specific, individualized programs are designed to take advantage of students' backgrounds and to permit students to pursue the master's degree at the pace most reasonable to themselves. The program is designed for late afternoon and evening students.

 

Intelligence Analysis

Degree: Master of Science in Intelligence Analysis
Credits: 33

University of Detroit Mercy's Master of Science in Intelligence Analysis builds on traditional courses in the areas of criminal justice and security administration, where the topics of crime foreseeability, threat analysis, crime prevention through environmental design and offender behavior are central. The degree is a 33-credit-hour graduate program. It is ideal for individuals looking to advance their career in this area, as well as for members of the military.

Meeting U.S. Government Demand

This master's program is designed to help meet U.S. government demand for more specialists in the area of intelligence analysis to assist in the tasks of homeland security in the face of threats from global terrorism.

Border City Location

As a major border city, one which has the highest volume of commercial traffic with a foreign country of any U.S. city, the Detroit-Windsor area is uniquely located to provide corporate, local law enforcement and national government opportunities, issues and situations relevant to intelligence analysis.

Forecasting Risk

The field of intelligence analysis uses "open intelligence" information to provide forecasts of risks and benefits to guide governmental, law enforcement and private industry decision making.

These forecasts involve use of available data and news sources to analyze crime patterns, security threats, possible terrorist targets and other relevant societal trends.

 

Cybercrime

Degree: Master of Science in Cybercrime
Credits: 30

University of Detroit Mercy's Master of Science in Cybercrime combines criminal justice studies with focused aspects of cybersecurity to provide a deeper understanding of digital forensics, cyber defense operations and computer networking for those coming from law enforcement, legal and private sector operational security backgrounds. This fully online 30-credit-hour program can be completed in two years.

Critical Need

Internet-based crime is one of the fastest-growing security threats in the United States. The proliferation of crime perpetuated using the Internet and technology requires individuals to have both knowledge and capabilities in criminal justice and the technical abilities of cybersecurity to identify, respond, and effectively handle data and countermeasures necessary to assist in the prosecution of cybercriminals.

Commitment to High Standards

The program is aligned with both the FBI and the U.S. Department of Homeland Security's national cybersecurity strategies. In addition, to ensure the highest standards of quality, several sources were referenced for curriculum design including CSEC2017, Cybersecurity Curricula 2017, NSA/DHS Center of Academic Excellence in Cyber Defense (CAE-CD), The Commission on Accreditation for Law Enforcement Agencies, Inc. (CALEA), Education for Justice (E4J) Initiative and U.S. Department of Justice (DOJ).

Unique Approach

Detroit Mercy's Master of Science in Cybercrime utilizes a unique approach with interdisciplinary collaboration between the University's Department of Criminal Justice and Department of Cybersecurity & Information Systems.
Faculty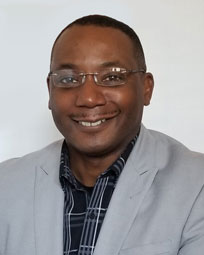 Share: